Emerald Cup 2022: Your Ultimate Guide to Cannabis Celebration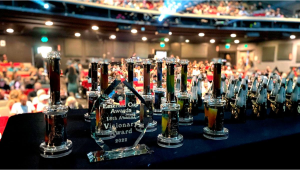 What once started as a 100-people cannabis gathering turned into a huge event where people can learn all about organically grown medical cannabis. The Emerald cup is one of California's older cannabis cups and a great example of how amazing cannabis culture is; The two-day event is held every year in Santa Rosa, CA, and focuses mainly on outdoor-grown cannabis and organic products. But that's not all, the vent holds different cannabis competitions, live music, and speaker panels with the most recognized names in the cannabis industry and also acts as a marketplace for everyone to showcase their latest products.
How It All Started
The Emerald Cup started back in 2003 when a group of growers from the Emerald Triangle in California gathered at a place called Area 101 to compare their harvests and share knowledge about sustainable and organic cultivation. The goal was to have a place where like-minded growers could gather and share weed, knowledge, and useful information, but little did they know the first edition would attract around 200-300 attendees.
Back then, competitions were really low-key, and competitors used to hide their identities for fear of prosecution, but things have evolved and thanks to the legalization of recreational cannabis, the event remains a celebration of the plant and the culture surrounding it. Nowadays, the California market is the largest and most diverse in the world and the Emerald Cup serves as a direct marketplace for the best things California has to offer.
Competitions and More
The event and competitions focus on different types of weed and promote a more environmentally-conscious approach. Some of the competitions include awards for "Best Eco-Conscious packaging, "Regenerative Farm Ward" and "Best Hemp-Derived CBD Topical", for example.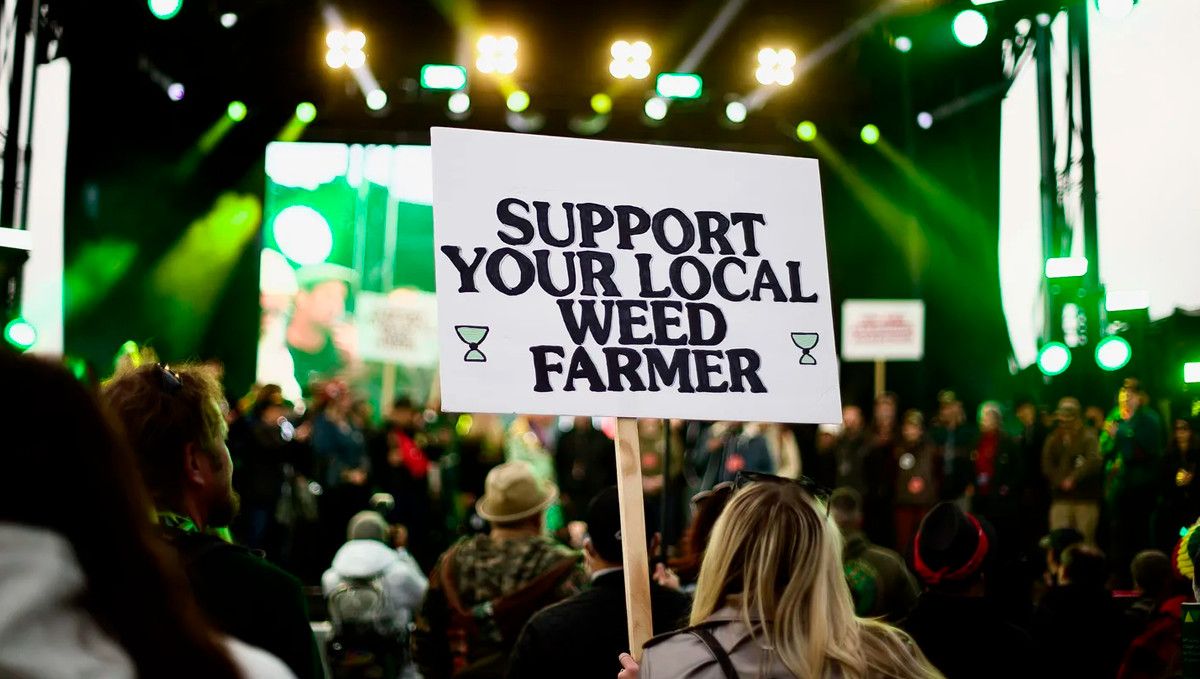 But it doesn't stop there, the event is not only about competition, but it's also about having fun and learning, so every year the event organizes live shows with notable acts (from recent years) inducing Damian Marley, The Roots, STS9.
With host speakers and discussions on cannabis-related themes like sustainable practices, legal cannabis statuses, and medicinal weed by experts from different areas of the cannabis industry.
First Edition Winner
Probably all cannabis cultivators have smoked, grown, or at least heard about the Chemdawg…and if you haven't, rest assured the original Chemdawg genetics from back in the day was mind-blowing, and believe it or not, won Best Flower in the first edition of the Emerald Cup Classification and was one of the very limited Emerald Cup Winners in that edition.
Chemdawg has gained "legendary" status despite its unknown genetic heritage. It's said that the strain was bred from Nepalese and Thai Sativa landraces but the original breeder is unknown so we can only speculate.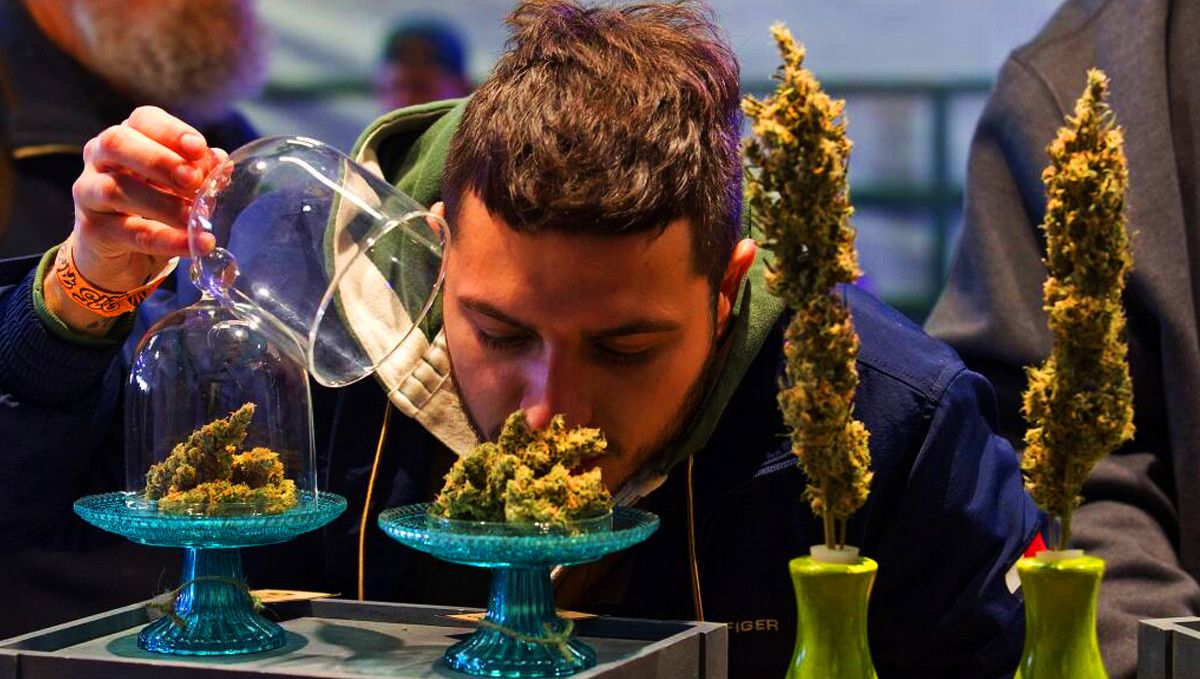 Having said that, the most accepted story of the origins of the strain says that the Chemdawg was bred from a seed exchange that took place at a Grateful Dead concert.
There are other theories that say the Chemdawg originated from a strain called Dog Bud, but it really doesn't matter what growers believe, the truth is that the Chemdawg became a staple in cannabis culture due to its energetic high and unique chemical taste, giving birth to other world-renowned varieties such as Sour Diesel and Og Kush.
Recent Winners
Now that you know a bit more about the first emerald cup classification and emerald cup winners, let's learn about the most recent winners. In 2022, the event had 6 different categories (which means 6 different winners), so let's read more about them and why they won.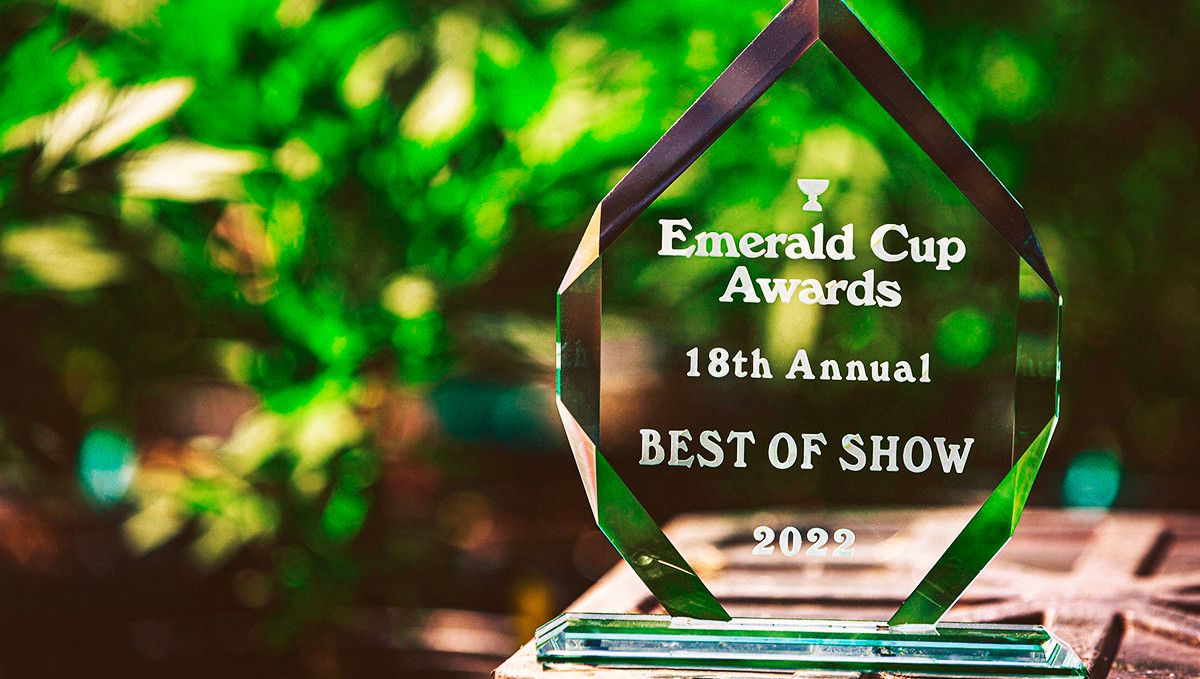 Lemon Sponge Cake
Lemon Sponge Cake (Lemon Kush Mint x Gelato) has a deliciously pungent smell that reeks of lemony, fruity, and vanilla terps with a strong diesel background. The unique aromas come with a powerful euphoric effect that boosts your mood while relaxing your whole body.
Modified Grapes
Modified Grapes (GMO x Purple Punch) is a must for flavor chasers. This variety literally tastes like grapes enveloped in garlic and diesel. The sweet and savory buds are definitely for the refined palate, expect not only unique flavors but also an upbeat, overall happy, and clearheaded high.
Animal Face
Animal Face (Face Off OG x Animal Mints) offers a mind-blowing flavor combining kiwi, black licorice, paint thinner, and fruit loops, that'll have you tasting something different every time…hard to imagine right? Well, it's no wonder this variety won first place in its category. This variety does not only offer unique terps but a powerful high that starts with a strong cerebral high and gradually sets as a joyful and peaceful mood.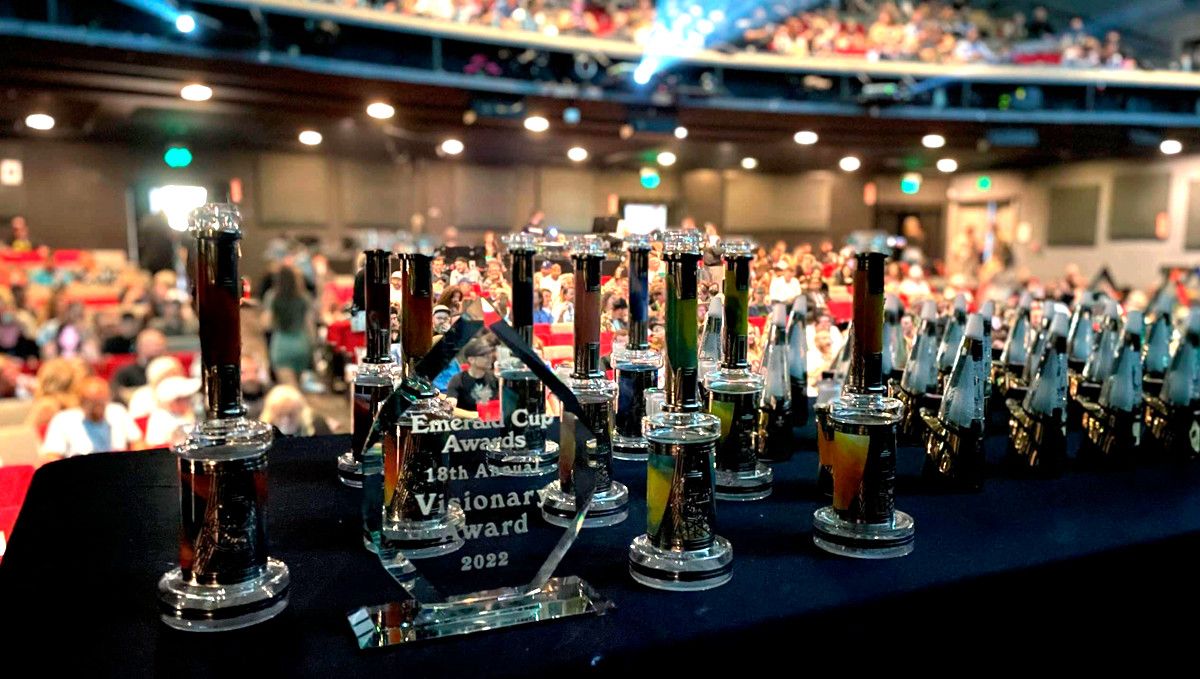 Sherbhead
Sherbhead (Sunset Sherbet x Loompa's Headband) brings the best varieties from its parents, delivering gas-heavy flowers with a delicious sweet and sour background, the ideal structure, and an unbeatable delightful effect that'll leave you wanting more.
Ohrangatang Titties
Unfortunately, there's no information on the Ohrangatang Titties as it was entered in the Personal Flower category.
Epiphany
And last but not least, Epiphany (Vista x Macstomper) brings beautiful silver and purple hues thanks to the hand-picked parents. There's not much to say about this variety as the effect and terpene profile are almost unbelievable so all is left to say is: try it for yourself.
If you're interested in seeing all the EC winners, make sure to check our table below!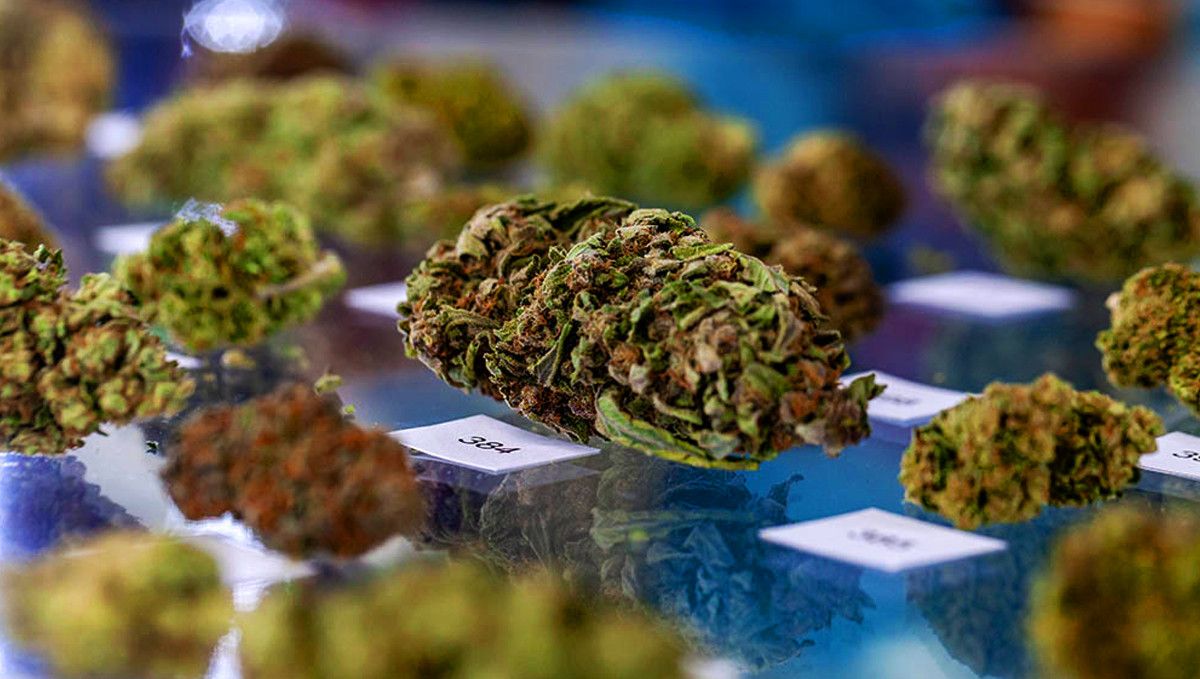 What the Future Holds
In 2021 the event upgraded its main event and created an annual cannabis celebration called the Emerald Cup Harvest Ball and in 2022 the vent moved 420 miles down the road to produce the Emerald Cup Awards in Hollywood, hosted by Woody Harrelson.
And if reading all of these got you excited, in 2023….well, you'll have to wait and see but the vent will only get bigger and better. The Emerald Cup will be back to Santa Rosa, CA for the main event and in Los Angeles for the Emerald Cup Awards.
So if you want to participate in the emerald cup classification awards and help vote on the next emerald cup winners, make sure to grab your tickets, and remember, ticket sales will being on August 26th at 12 noon!
Past Emerald Cup Winners and Emerald Cup Classification
2022
| | | | | | | |
| --- | --- | --- | --- | --- | --- | --- |
| Category | Sungrown Flower | Mixed Light Flower | Indoor Flower | Sungrown Greenhouse | Personal Use Flower | 3rd Party Certified Mixed Light |
| 1st Place | Farmer and the Felon – Lem. Sponge Cake | LitHouse – Modified Grapes | Fig Farms – Animal Face | Local Cannabis Co – Sherbhead | Parker PZ Moselle – Ohrangatang Titties | Old Briceland Cannabis Company – Epiphany |
2021
| | | | | | | | | | |
| --- | --- | --- | --- | --- | --- | --- | --- | --- | --- |
| Category | Sungrown Flower | Mixed Light Flower | Indoor Flower | Sungrown Greenhouse | Personal Use Flower | 3rd Party Certified Mixed Light | CBD Flower | Third Party Certified Sungrown | Hemp Flower |
| 1st Place | CannaCraft - The Farmer and the Felon Gorilla Snacks | Local Cannabis Company - I.C.C | Connected Cannabis - Gelonade | | Mark Greyshock - Tropical Sleigh Ride #1 | Redwood Remedies - Sour Tangie | Abatin Farms x Biotech Institute - Citrus Gummies | Emerald Spirit Botanicals - Pink Boost Goddess | Hakira x Biotech Institute - Guava Jam 2.0 |
2020 - Cancelled (covid)
2019
| | | | | |
| --- | --- | --- | --- | --- |
| Category | Sungrown Flower | Mixed Light Flower | Personal Use Flower | CBD Flower |
| 1st Place | Ridgeline Farms - Ridgeline Runtz | Josh D. - Ice Cream Cake | Paula Jobe-Hudgens - LA Kush Cake | Phytologie Alameda - Holy Crunch |
As the legal cannabis industry grows, there are more and more niche cannabis cups and each one is unique; Sometimes more focused on the medicinal side and sometimes more focused on the recreational side but always focused on the cannabis community.
The American Autoflower Cup will be holding the unique cannabis cup and we invite you to come and be a part of this community, get to know like-minded individuals, and share your experience.